Covid-19 Update
Printing Services has suspended normal operations effective 3/19/2020 until further notice. Our offices are now closed however we will continue to process course kit orders. Please email your inquiries to ckits@yorku.ca
If you need to supply material for scanning for your course kit, it can be dropped off or sent via courier to:
York University Central Mailroom
Attn: Course Kit Centre (Please note your CKC Representative for forwarding)
4700 Keele Street
019 Curtis Lecture Halls
Toronto ON M3J 1P3
Hours: Monday through Friday: 7:30AM - 3:30PM
Access from the dock – We have temporarily created a drive-up pick-up/drop-off  location at the loading dock for Mailing Services. Please park by the dock and knock on the door labelled with a sign.
Mailing Services dock is adjacent to the Scott Library loading dock. Follow Arboretum lane past the Arboretum Lane Parking Garage entrances and enter the service parking lot and loading dock area through automatically opening swing gates (Access card not required).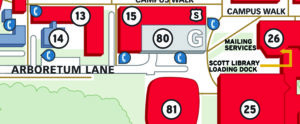 end update: 04/09/2020
The York University Course Kit Centre is one of the top producers of customized course materials in North America. We have been producing Course Kits for the York University community since 1990. Our Course Kit production services  includes services for the Schulich School of Business and Osgoode Hall Law School.
We promote the use of  recyclable paper products for course kits Located on Keele Campus down the hall from Scott Library, we are centrally located and can deliver your order to you, or produce for distribution through the York University Bookstore.
Helpful resources and information on copyright at York can be found on the copyright website at www.yorku.ca/copyright.  If you have any questions about copyright support and/ or requirements, please contact the Copyright Support Office at copy@yorku.ca.